Arterial Blood Gas
What is a blood gas test?
A blood gas test measures the amount of oxygen and carbon dioxide in the blood. It may also be used to determine the pH of the blood, or how acidic it is. The test is commonly known as a blood gas analysis or arterial blood gas (ABG) test.
Your red blood cells transport oxygen and carbon dioxide throughout your body. These are known as blood gases.
As blood passes through your lungs, oxygen flows into the blood while carbon dioxide flows out of the blood into the lungs. The blood gas test can determine how well your lungs are able to move oxygen into the blood and remove carbon dioxide from the blood.
Imbalances in the oxygen, carbon dioxide, and pH levels of your blood can indicate the presence of certain medical conditions. These may include:
heart failure
uncontrolled diabetes
hemorrhage
chemical poisoning
a drug overdose
shock
Your doctor may order a blood gas test when you're showing symptoms of any of these conditions. The test requires the collection of a small amount of blood from an artery. It's a safe and simple procedure that only takes a few minutes to complete.
Why do I need this test?
You may need this test if you have trouble getting oxygen into your systembecause you have a lung disease such as pneumonia or emphysema. But low oxygen levels and impaired gas exchange may be a sign of another disease or condition that has nothing to do with your lungs. Your healthcare provider needs to know what's causing your breathing problems to prescribe the right treatment. If you are using supplemental oxygen to help you breathe, this test shows if you are getting enough extra oxygen.
People on a breathing machine or who have kidney disease, kidney failure, diabetes, shock, chronic vomiting, or other conditions may have problems with the acid-base balance in their blood. Here are some of the more common reasons an ABG is ordered:
You're often short of breath.
You're unusually tired.
You feel confused or disoriented.
You have chronic vomiting or nausea.
You are in shock.
You have a smoke-inhalation injury.
You have carbon monoxide poisoning.
You have burns in your airways.
You're being treated for a near-drowning accident or for decompression sickness.
You're being treated for a lung condition that affects how your body absorbs oxygen or gets rid of carbon dioxide.
You're a smoker, and the healthcare provider needs to find out whether you have a disease such as congestive heart failure.
You've had a drug overdose.
You've had a head or neck injury and now have trouble breathing.
You have a condition that can affect breathing, such as asthma, chronic obstructive pulmonary disease, myasthenia gravis, or Guillain-Barré syndrome.
A newborn is having trouble breathing.
What is measured in an arterial blood gas test?
An arterial blood gas test usually includes the following measurements:
Oxygen content (O2CT): This measures the amount of oxygen in your blood.
Hemoglobin: This measures the amount of hemoglobin, the protein responsible for carrying oxygen to your cells, in your blood.
Oxygen saturation (O2Sat): This measures how much hemoglobin in your blood is carrying oxygen. Hemoglobin is a protein in your red blood cells that carries oxygen from your lungs to the rest of your body.
Partial pressure of oxygen (PaO2): This measures the pressure of oxygen dissolved in your blood. It helps show how well oxygen moves from your lungs to your bloodstream.
Partial pressure of carbon dioxide (PaCO2): This measures the amount of carbon dioxide in your blood and how well carbon dioxide can move out of your body.
pH: This measures the balance of acids and bases in your blood, known as your blood pH level. The pH of blood is usually between 7.35 and 7.45. If it's lower than that, your blood is considered too acidic. If it's higher than that range, your blood is considered too basic (alkaline).
Bicarbonate (HCO3): This is calculated using the measured values of pH and PaCO2 to determine the amount of the basic compound made from carbon dioxide (CO2.)
When is an arterial blood gas (ABG) test performed?
Healthcare providers frequently order arterial blood gas (ABG) tests for the following settings or areas of medicine:
Emergency medicine: Emergency medicine is the area of medicine that's concerned with the care of illnesses or injuries requiring immediate medical attention.
Anesthesiology: Anesthesiology is the area of medicine that's concerned with the care of people before, during and after surgery. It encompasses anesthesia, intensive care medicine, critical emergency medicine and pain medicine.
Pulmonology: Pulmonology is the area of medicine that deals with diseases involving your respiratory system.
Healthcare providers evaluate several conditions using an ABG, including:
Acute respiratory distress syndrome (ARDS): This is a life-threatening lung injury that causes dangerously low oxygen levels in your blood. It's caused by sepsis, COVID-19 and other conditions.
Severe Sepsis: Sepsis is a medical emergency caused by your body's response to an infection and can be life-threatening. Sepsis is the consequence of widespread inflammation in your body.
Septic shock: Septic shock is a life-threatening condition that happens when your blood pressure drops to a dangerously low level after an infection.
Hypovolemic shock: Hypovolemic shock is an emergency condition in which severe blood loss or other fluid loss makes your heart unable to pump enough blood to your body.
Diabetes related ketoacidosis (DKA): This is a serious and life-threatening complication that affects people with diabetes (mainly Type 1 diabetes) and those who have undiagnosed Type 1 diabetes. It causes your blood to become acidic.
Renal tubular acidosis (RTA): This condition happens when your kidneys don't remove acids from your blood into your urine as they should, causing your blood to become acidic.
Acute respiratory failure: This happens when fluid builds up in the air sacs in your lungs, making it difficult for your lungs to release oxygen into your blood.
Acute heart failure: This is a sudden weakening of your heart that limits its function. It requires emergency treatment to help manage and alleviate symptoms.
Cardiac arrest: This happens when your heart suddenly stops beating. It can happen to individuals who may or may not have heart disease and requires immediate medical attention.
Asthma attack: This is a sudden worsening of asthma symptoms caused by the tightening of muscles around your airways.
Inborn errors of metabolism: These are rare genetic (inherited) conditions in which your body can't properly turn food into energy. These conditions are usually caused by issues with or a lack of specific proteins (enzymes) that help break down parts of food.
Your provider may also perform an arterial blood gas test if you have any of the following lung conditions to make sure your treatment is working properly:
Asthma.
Chronic obstructive pulmonary disease (COPD)
Cystic fibrosis
What are the risks of a blood gas test?
Since a blood gas test doesn't require a large sample of blood, it's considered a low-risk procedure.
However, you should always tell your doctor about existing medical conditions that may make you bleed more than expected. You should also tell them if you're taking any over-the-counter or prescription medications, such as blood thinners, that may affect your bleeding.
Possible side effects associated with the blood gas test include:
bleeding or bruising at the puncture site
feeling faint
blood accumulating under the skin
infection at the puncture site
Tell your doctor if you experience unexpected or prolonged side effects.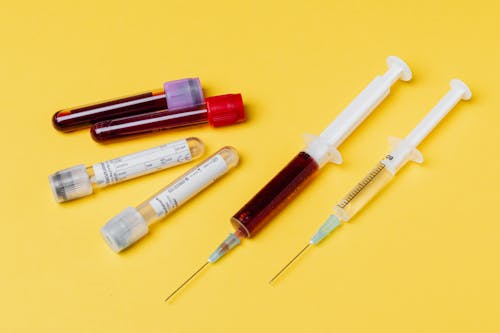 What do my test results mean?
Test results may vary depending on your age, gender, health history, the method used for the test, and other things. Your test results may not mean you have a problem. Ask your healthcare provider what your test results mean for you.
The results of you ABG will show several numbers. Here are two important ones:
Partial pressure of oxygen, or PaO2. This measurement shows the pressure of oxygen in your blood. Healthy adults will generally have a resting Pa02 greater than 80 millimeters of mercury (mmHg).

Acid-base balance (pH). When carbon dioxide builds up in your blood, it dissolves and creates an acid. If your blood acid level is out of balance, it can mean your body isn't able to get rid carbon dioxide efficiently. This may happen because your lungs aren't working well or your kidneys can't get rid of the acid. A normal result is between 7.35 and 7.45.
What happens after the test?
Do not lift or carry objects for about 24 hours after you've had blood drawn from an artery. Read more